UP Budget 2022: More MBBS seats; 14 new medical colleges; smartphones to 2 crore youths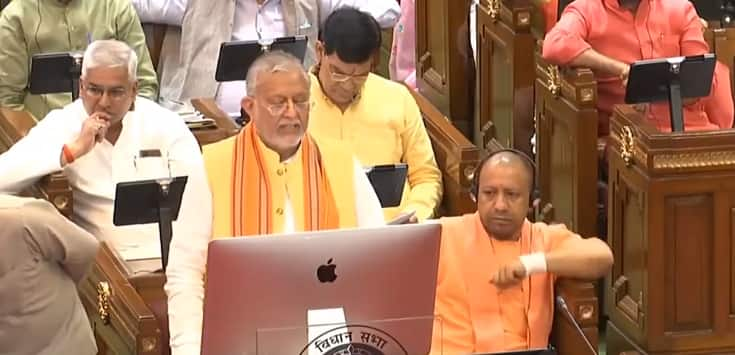 UP Budget 2022: More MBBS seats; 14 new medical colleges; smartphones to 2 crore youths
UP Budget 2022-23: Yogi government has earmarked Rs 500 crore for increasing MBBS, PG medical seats; Rs 18,670.72 crore for school education scheme.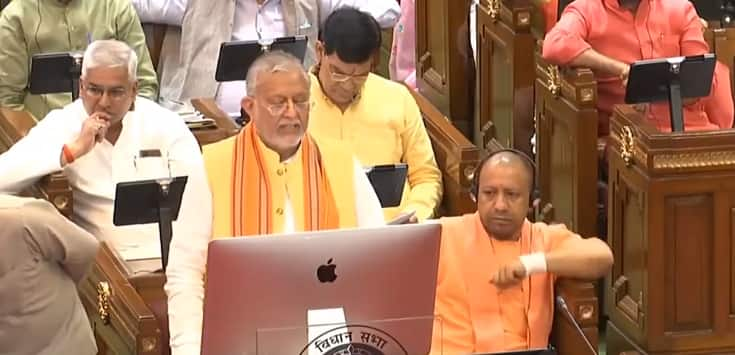 The largest outlay in school education is towards Samagra Shiksha Abhiyan with Rs 18,670.72 crore allocation. (Picture Courtesy: UP Government Twitter Account)
NEW DELHI: In the first budget since re-election, the Yogi Adityanath government allocated Rs 500 crore to increase the number of MBBS and postgraduate medical seats in Uttar Pradesh which currently has 65 medical colleges, 35 of them government. Another Rs 2,100 crore have been earmarked for new medical colleges in 14 districts including Bijnor, Kushinagar, Gonda, and Sultanpur. It has also set out Rs 25 crore for a new nursing college.
The UP government's Mukhyamantri Abhyuday Yojana – the scheme through which the state supports coaching for competitive examinations including the JEE Main (engineering), NEET UG (undergraduate medicine) and UPSC Civil Services (central government jobs) – has been allocated Rs 30 crore.
Under a new scheme launched last year, over 12 lakh youths received smartphones or tablets. The government plans to give these to two crore youths over the next five years.
Also Read: MBBS Admission: Why NEET cutoffs vary widely for medical colleges at close NIRF ranks

UP Budget 2022: School education
The largest outlay in school education is toward the main scheme which supports elementary and secondary education – Rs 18,670.72 crore have been allocated to Samagra Shiksha Abhiyan. Under this scheme, Rs 836.80 crore has been earmarked for the construction and infrastructure development of government schools. For the academic year 2022-2023, the Yogi government targets two crore student enrollments in the council schools under the school enrollment scheme.
The outlay for the mid-day meal scheme, now called PM POSHAN, is Rs 3,548.93 crore. These school meals will be accessed by two crore students across 144 lakh primary and upper primary schools across the state. Another Rs 166.71 crore has been proposed for the distribution of fruits in these schools.
Both SSA and the school meal scheme are centrally-sponsored schemes for which funding is shared between the union government and the state in a 60:40 ratio. The amounts budgeted for by the state is the 40 percent state share.
The nutrition component of the Integrated Child Development Scheme (ICDS), now also subsumed within PM POSHAN, gets Rs 1675.29 crore.
The UP government has also proposed Rs 324.41 crore for Sanskrit schools functioning in the state.
For the direct benefit transfer of students studying in classes 1-8 in the government schools to buy free uniforms, sweaters, school bags and shoe-stocking, a Rs 370 crore is allocated in the budget for the financial year 2022-2023.
Also Read: NAS 2021: Punjab, Rajasthan top performers across school levels, subjects
Uttar Pradesh: Medical, AYUSH universities
The 14 new medical colleges will be established as public-private partnerships.
For the establishment of an AYUSH University in Gorakhpur, the government has proposed Rs 113.52 crore; another Rs 100.45 crore to set up Atal Bihari Vajpayee Medical University, Lucknow; Rs 50 crore for autonomous state medical colleges and and Rs 25 crore for new nursing colleges in the state.
Also Read | 35% male dropouts 'not interested in studies': What NFHS 5 says about school education
UP Budget 2022-23:Agriculture and sports
For the completion of buildings under construction of 75 government colleges Rs 200 crore is proposed in the state budget.
Started in January 2022, Major Dhyanchand Sports University in Meerut district has been given Rs 50 crore for the establishment of the university.
Further, Rs 10 crore is proposed for Agriculture College, Lakhimpur campus and other construction works under Chandrashekhar Azad Agricultural and Technological University, Kanpur.
Considering the rise of smart classes in-state colleges, Rs 10 crore is proposed for the establishment of smart classes in-state colleges.
Also Read | 'No fruit or milk': Food inflation making mid-day meals lighter, less nutritious
Skill-oriented courses
The UP government has proposed an online Sanskrit training centre at Sampurnanand Sanskrit Vishwavidyalaya, Varanasi to offer free online Sanskrit training and employment courses to the students.
Further, to inculcate new-age skills in students to make them employable, four new courses like data science and machinery, internet of things, cyber security and drone technology have been proposed. Further, the establishment of four state industrial training institutes (ITI) are also proposed.
Under the Purv Dasham Dashamottar Chhatravriti Yojana Scholarship Scheme for the students belonging to minorities, Rs 600 crore is allocated. The modernisation plan of Persian and Arabic madrassas has been allocated Rs 479.07 crore.
Follow us for the latest education news on colleges and universities, admission, courses, exams, schools, research, NEP and education policies and more..
To get in touch, write to us at [email protected]
Related Questions and Answer about "UP Budget 2022: More MBBS seats; 14 new medical colleges; smartphones to 2 crore youths"
State-wise number of medical colleges
State / UTNumber of Medical CollegesNumber of Stand Alone PG InstitutesUttar Pradesh555Uttarakhand60West Bengal258Total54364
While there's no cap on the number of schools you can apply to, some students, especially those from affluent backgrounds who want to go to a selective college, can go overboard, applying to more than 20 or 30 colleges. Personally,
I would strongly discourage any student from applying to more than 15 colleges
.Jul 27, 2018
Institute of Medical Education Chandigarh (PGIMER Chandigarh) will help you do proper research about the College.n...nAdmission Procedure.
Admission ProcessFor U.G. Courses: NEET UG For P.G. Courses: NEET PGChandigarh NEET Seat Matrix 2021Click Here
All 34 Class 3 Senate seats are up for election in 2022; Class III currently consists of 14 Democrats and 20 Republicans.n...n2022 United States Senate elections.
Last election4850Seats needed1Seats up1421PartyIndependentCurrent seats2
2022 United States Senate elections
Last election4850Seats needed1Seats up1421PartyIndependentCurrent seats2
There is no new episode of SNL this April 26, 2022
, which takes a break to return next month and we already know the hosts for April's episodes.
2 crore, the interest rate is
3.25% p.a. for the tenure of above 1 year to less than 5 years
. The long-term FD rate is 5.15% p.a. for a maturity period of more than 5 years for deposits less than Rs.
The 2022 United States Senate elections will be held on November 8, 2022, with 34 of the 100 seats in the Senate being contested in regular elections, the winners of which will serve six-year terms in the United States Congress from January 3, 2023, to January 3, 2029.
Uttar Pradesh Legislative Assembly
Uttar Pradesh Vidhan SabhaLeader of the OppositionTBDStructureSeats403Political groupsGovernment (273) BJP (255) AD(S) (12) NISHAD (6) Opposition (125) SP (111) RLD (8) SBSP (6) Others (5) JSD(L) (2) INC (2) BSP (1)
All 435 voting seats in the House of Representatives will be up for election. As of March 2022, 47 representatives (31 Democrats, 16 Republicans) have announced that they will be retiring.