Three Standout Environmental Studies Students Identify Ways to Help the Planet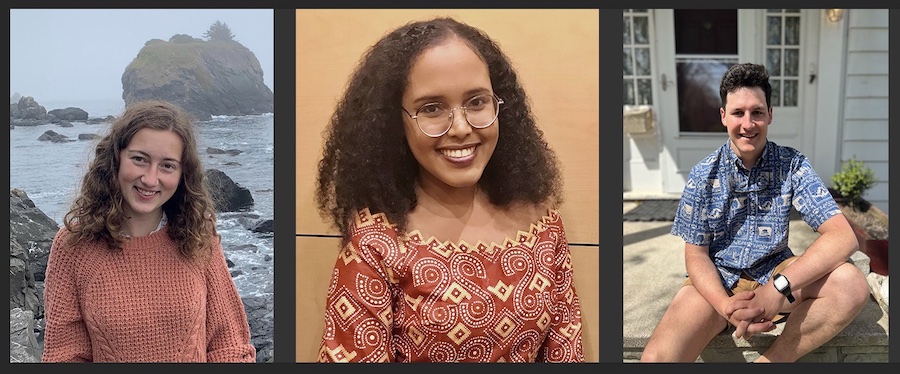 The Fallacy of Biomass as Green Energy
Cunliffe's project, "Forests as Fuel? An Investigation of Biomass's Role in a Just Transition," explores misinformation promulgated by the biomass industry. Her research undermines its central claim that the wood pellets it manufactures for industrial electricity generation are environmentally beneficial.
In fact, she points out, while biomass is efficient at generating heat, it is not efficient at creating electricity; it actually burns dirtier than coal. One plant can produce 2.4 million tons of carbon dioxide emissions a year—the equivalent of putting 473,000 more gas-fueled cars on the road.
At the same time, the plants are relying on harvesting surrounding forests, which act as carbon sinks. Between 4,000 and 30,000 acres of forests are cut for biomass energy every year, she reported, and can't grow back fast enough to help stem the worst effects of climate change.
Cunliffe, an environmental studies and government major, focused her research on the intersection of environmental and social justice movements, noting that new biomass factories are being sited in disadvantaged communities in the southern US. These plants primarily produce pellets for European electricity under the guise of being a renewable and green energy source.
"Every single biomass wood pellet plant in North and South Carolina is located in an environmental justice community," she said, which means they are mostly made up of people of color and have poverty rates below the state median. Additionally, these "communities already experience pollution from industrial agriculture and other power generation," she said.
Despite the pattern of staunch regulatory support of biomass by state actors, local biomass resistance is gaining momentum. A proposed plant Lumberton, North Carolina, was just abandoned in April. A slew of negative media coverage has been published recently, "slamming biomass from a climate standpoint and an environmental justice standpoint," Cunliffe said.
"Public opinion matters for biomass because its entire demand structure is contingent on its designation as green," particularly in Europe, Cunliffe said.
Cunliffe summarized the hopes of people living in communities affected by biomass. "When you ask folks involved in this struggle what they envision for the future, their answers look like true renewables [and] new processes for incorporating community voices into policy," as well as for climate action plans that don't leave some groups behind.
Related Questions and Answer about "Three Standout Environmental Studies Students Identify Ways to Help the Planet"
Three identification methods require the services of a forensic or investigative specialist:
fingerprint comparison, DNA compari- son, and composite drawing
. A more common identification method, the police lineup, involves investigators, witnesses or victims, and a known suspect.
Podcasting is
a significant resource which teachers can use to teach and learn a language
. It is an alternative method of learning which can help to improve your listening skills. Most of producers of podcasts are educators who use this technology to communicate with their students outside the traditional class.
Top 5 Ways to Help the Homeless
Be a good listener. The next time you find yourself in a conversation with a homeless person, lend an ear and practice active listening. ...
Give hope, not cash. ...
Help them to the Mission. ...
Get involved — donate or volunteer. ...
Love Bigger.
Environmental Science focuses on the study of natural systems and the application of technology to protect and improve the environment while Environmental Studies focuses on the interaction between human and natural systems and the connection between science and policy.
8 Ways to Say 'Thank You' on Veterans Day
Show Up. ...
Donate. ...
Fly a flag - correctly. ...
Ask someone about their service. ...
Write. ...
Don't Confuse Veterans Day with Memorial Day. ...
Visit a VA Hospital. ...
Get Outdoors with a Veteran.
How to Overcome Adversity
Develop a positive mindset.
Use your sense of humor.
Expect adversity and prepare for it.
Learn from others who have overcome adversity.
Choose supportive and caring friends.
Jot down your thoughts in a daily journal.
Think about the struggles you've been through.
Ten Things You Can Do to Support Immigrants and Refugees
1) Get informed. ...
2) Speak up and speak out. ...
3) Write letters to the editor to your local newspaper. ...
4) Support organizations that provide direct services to immigrants and refugees. ...
5) Call your representatives. ...
6) Get immigrants out of detention.
A study of environmental studies and scrutiny of the environment in which the building is to be built; understanding its social/cultural context, climatic conditions, land type, etc is
one of the primary steps in architectural design
.
Environmental management is defined as
a system that incorporates processes for summarizing, monitoring, reporting, developing and executing the environmental policies
. The aim of encouraging an environmental management system is to ensure the healthy state of our planet for future generations.
These three techniques,
electronic surveillance, undercover operations, and use of informants
are the most important techniques that have assisted the investigative agencies to combat organized crime and transnational crimes.