Jeff Bagwell, Astros legend and Baseball Hall of Famer, calls 'Moneyball' a 'farce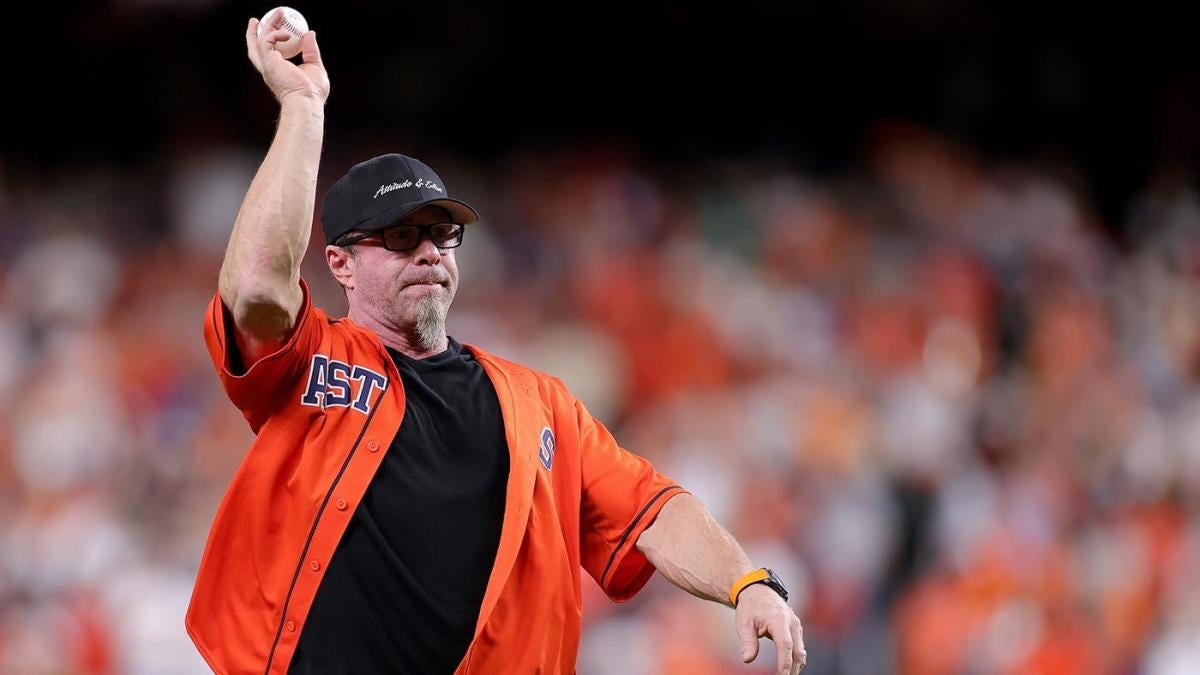 The "Moneyball" concept, which was employed by the Oakland Athletics in the early 2000s, was a revelation that eventually was written about in book and turned into a movie. Hall of Fame slugger Jeff Bagwell, who was serving as a color commentator for the Houston Astros' broadcast on Tuesday, revealed that he isn't exactly the biggest fan of the concept and movie.
"I just think Moneyball is a farce," Bagwell said. "They had the three best pitchers in baseball. You could've stuck anybody out there. My son's 15-year-old team could have been out there with those three pitchers."
What Bagwell is referencing is the A's having Tim Hudson, Mark Mulder and Barry Zito in their starting rotation in the early 2000s. All three were premier pitchers in baseball at the time, and at points all held sub-4.00 ERAs.
Bagwell made it clear that he understands the concept of Moneyball, which values getting on base rather than hitting home runs. He did note that the movie left some important players out, though.
"I ask you to go back to 2000 and look at the records they had. I think Miguel Tejada was playing shortstop too, he didn't stink." Bagwell added. "I like the concept of getting on base, don't get me wrong, but to make a movie about it? And to get all this credit that they were so smart?"
Tejada wasn't featured much in the "Moneyball" movie, which starred Brad Pitt playing former A's general manager Billy Beane. Instead, the film focused on secondary players like Chad Bradford, Scott Hatteberg and David Justice, who were players that the A's took a chance on in the early 2000s.
The Hall of Famer even went as far to say that he believed that the Atlanta Braves in the 1990s should've also been credited as a "Moneyball" team since they implored a similar strategy.
"The Braves won for 15 years with Maddux, Smoltz and Glavine," Bagwell said. "They mixed in some other great starters around them, and they had to score three runs a game. And won 15 years in a row. Why aren't they called the Moneyball team? What's the difference?"
The Braves possessed three of the most dominant starting pitchers in baseball in Greg Maddux, Tom Glavine and John Smoltz and even won the World Series in 1995 along with countless National League East division titles. That's one more World Series title than the Oakland Moneyball team won.
Related Questions and Answer about "Jeff Bagwell, Astros legend and Baseball Hall of Famer, calls 'Moneyball' a 'farce"
The Pro Football Hall of Fame announced 122 Modern-Era nominees for its Class of 2022, and five former Colts greats are on the list: Bob Sanders. Robert Mathis.
Jeff Saturday
.Sept 22, 2021
Naismith Memorial Basketball Hall of Fame.
Michael Jordan, basketball's greatest player ever, was among a class of five enshrined in the Naismith Memorial Basketball Hall of Fame on Sept.
11, 2009
.
Whitworth was one of the first free-agent signings of the McVay tenure, and undoubtedly the most important.
The second part of his career with the Rams has put him in the Hall of Fame conversation
, being a Super Bowl champion, two-time All-Pro and Walter Payton Man of the Year winner.Mar 15, 2022
In perhaps the easiest and most obvious move in the history of sports,
Tiger Woods was inducted into the World Golf Hall of Fame
on Wednesday evening ahead of the 2022 Players Championship.
Cause two dirty little secrets about Arenado. One,
he doesn't have a Hall of Fame peak
. He has four seasons of 5+ fWAR. Once again, Baseball-Reference likes him better, as he does have five seasons of 5+ bWAR.Jan 17, 2022
Now that it seems a near certainty that Cormier won't be returning to the Octagon,
his induction into the Hall of Fame is a no-brainer
. Cormier was the first fighter in UFC history to defend two titles in two different weight classes -- and only the fifth fighter to hold two divisional belts concurrently.
Howard has earned some of the most prestigious awards that College Football has to offer. He won the Heisman trophy for his 1991 season.
He was inducted into the College Football Hall of Fame
and was honoured as the inaugural Michigan Football Legend in 2011.
Harrison is a member of the Pro Football Hall of Fame
, being inducted in the Class of 2016.
At the conclusion of the 2009 NBA playoffs, Mutombo announced his retirement. On September 11, 2015,
he was inducted into the Naismith Memorial Basketball Hall of Fame
.
No, Channing Crowder hasn't been inducted into any hall of fame
.