Three W&M undergrads awarded Boren Scholarships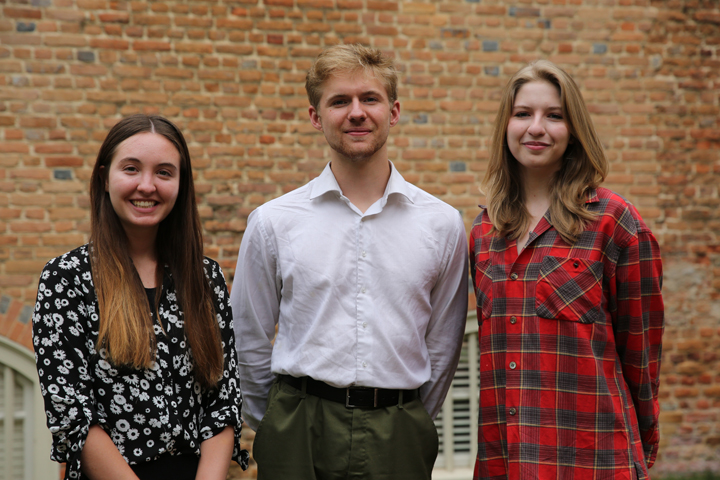 Three W&M undergrads awarded Boren Scholarships
Three William & Mary students were awarded prestigious David L. Boren Scholarships to study foreign languages overseas with the support of the National Security Education Program (NSEP). Collin Absher '24, Sam Rofman '23 and Mira Wroblewski '23 will receive funding to study abroad in the coming year. 
Boren Scholarships are administered by the Institute of International Education (IIE) and awarded to U.S. undergraduate and graduate students to acquire language skills and experience in countries critical to the future security and stability of the United States, according to a press release from the IIE. 
Absher, Rofman and Wroblewski were among the 208 undergraduate students nationwide awarded Boren Scholarships out of 458 applicants. 
In exchange for funding, Boren recipients must agree to work in the federal government for at least one year following completion of their studies. 
Absher, a Chinese studies and Asian & Pacific Islander American studies double major from Fredericksburg, Virginia, plans to study Chinese language and culture for six months at the National Taiwan University's Intensive Chinese Language Program in Taipei, Taiwan.  
He also plans to volunteer at the Taiwan Association for Human Rights, which is where he plans to complete a Freeman Fellowship this summer along with a Critical Language Scholarship. He plans to pursue international law at a Chinese institution after he graduates from William & Mary. 
Rofman, a data science major from Haymarket, Virginia, plans to study Korean language, culture and literature for the 2022-23 academic year at Yonsei University in Seoul, Korea. She hopes to work in a national security capacity where she can use her research experience, STEM and foreign language skills and data analysis knowledge in support of national security after she graduates from W&M. 
Wroblewski, an international relations major and Russian & Post-Soviet studies minor from Falls Church, Va., plans to take advanced Russian classes as well as area studies classes for the 2022-23 academic year in Almaty, Kazakhstan. She hopes to fulfill the Boren service requirement with the State Department or USAID then continue working in the realm of public service and diplomacy. She aspires to one day become a Foreign Service Officer.
Students interested in the Boren Scholarship should apply through or contact the Office of Undergraduate Academic Affairs.
Related Questions and Answer about "Three W&M undergrads awarded Boren Scholarships"
It's no wonder the Boren Fellowship is a
highly competitive award
, providing an opportunity for both study abroad and a career in the Federal government. The key to winning a Boren Fellowship is crafting an application that meets the needs of the program.
A scholarship is
at times a one-time payment
. Other scholarship awards are renewable, they provide students with funds each academic year or semester for some years or the entire duration of study. Scholarships may be fully funded or partially funded which means they might cover all the cost or just a fraction of it.
The program awards scholarships
based on merit during two selection phases
(fall and spring semesters). Note: AFROTC Scholarships do not cover room and board. ... Selectees also receive a monthly living expense stipend and an annual book stipend.
Private loans are typically issued based on credit worthiness, but private scholarships are
issued based on academic merit and financial need
. Apply for as many scholarships as possible to avoid having to pay for your education.
About 100 Rhodes Scholars are selected from
around 60 nominated countries
around the world every year, with two Global Scholars selected from any other country.
Typically, academic scholarships are awarded by
the admissions office
, not the financial aid office, and do not require a separate application form. Academic scholarships are awarded to a small percentage of prospective students based on high school grade point average (GPA) and SAT/ACT admissions test scores.
Students can receive merit scholarships for good grades and high test scores. ... Merit aid is a form of college financial aid that does not consider a student's financial need, but rather is awarded
based on academic, athletic, artistic or special-interest merit
.
Multiple scholarships will be awarded.nn However, this is a competitive program and scholarships will be awarded based
on a candidate's academic record, financial need, readiness for online study at WGU
, and current competency, plus other considerations.
Scholarships Awardednn There is an estimated
1.7 million private fellowships and scholarships
. The combined worth of these scholarships are over $7.1 billion.
Merit scholarships
are typically awarded on the basis of academic, athletic or artistic merit, in addition to special interests. Some merit scholarships also consider financial need, but rewarding talent is the primary objective.