Inbox: It serves a playmaking purpose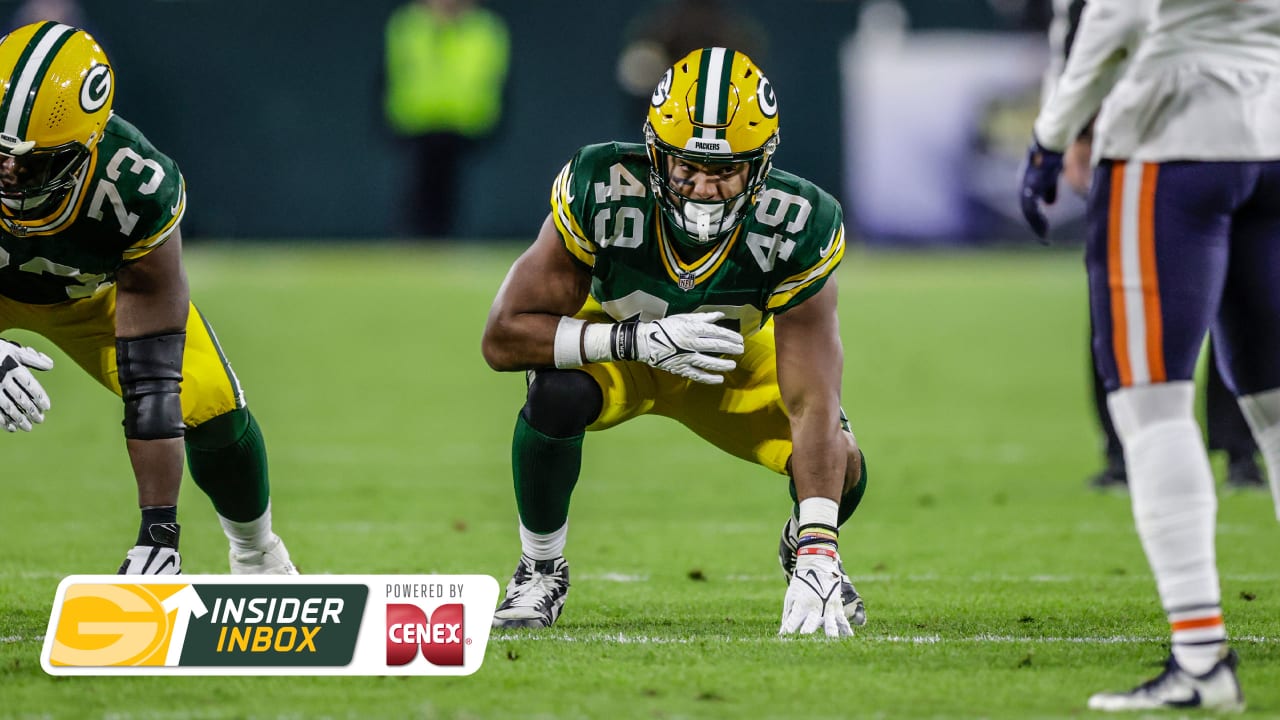 Paul from Phoenix, AZ
Wes, what is the definition of "future players," from your response: "Most of the Packers' future players were not present or not practicing..."?
I owe the Inbox an apology. Last year, we've started using an automatic cloud storage system to store our Word documents and content. I was against this because I have my own 15-year-old, tried-and-true process for storing every word I've ever written. Anyway, when I got my new computer this past winter, I had to get on board with cloud computing. Spoff warned me about how glitchy the system can be, and that it doesn't always save properly. Well, it finally bit me in the butt Wednesday. It turns out the system didn't save my final version of Inbox – it spaced out roughly 75% of the way through. So, for a little more than two hours, you were treated to a mostly unedited version of what I wanted to publish – including a few questions I wanted to cut out during final editing. Evidently, when I edited the word "Malarkey" it threw the entire system out of whack (Thank you for that, Craig from Port Charlotte). We figured this out at approximately 11 a.m. CT and uploaded the correct version. No future players were mislabeled during the writing of this Inbox.
Ryan from Bloomer, WI
Wes, inquiring minds want to know. Give us an update on your first impressions and experience in your first locker-room visits and player interactions in over two years. Do any of these young players know that you are kind of a big deal? Do they know that you are very important and have many leather-bound books and your apartment smells of rich mahogany?
I highly doubt that. Like I said with rookie minicamp, it didn't feel that unfamiliar to me. Apparently, some folks were doing stories strictly on the media being back in the locker room. To me, it was another day at the office. It was cool to talk with Tyler Davis and some players I'd never seen before in-person, but I try to keep a little perspective here. There are more important matters going on in the world than whether Wes is allowed in an NFL locker room.
Jon from Temecula, CA
I see a lot of questions about having Aaron Jones and AJ Dillon on the field at the same time. But have we forgotten about Josiah Deguara's play taking out two Vikings with one block? I want to see Deguara and Dillon punishing defenders at the second level. Using a fullback to lead block for The Quadfather sounds brutal. It's not an every-down play, but boy can that set a tone. Our WRs have been unselfish with their willingness to block. Let's pay them back and soften up that secondary with our heavy hitters.
Deguara definitely plays with an edge. He and Dominique Dafney were both on the roster for a reason last season. That F-tight end is a vital position in Matt LaFleur's offense. It's a selfless position, but the potential is there to make an impact on any play. Jones talked in the past about how much he enjoys running behind a fullback. It serves a playmaking purpose.
Donny from Green Bay, WI
I think of the years invested in Robert Tonyan, Yosh Nijman, and now potentially Tyler Davis. Am I biased or do the Packers do a real good job of developing players and especially being patient?
I think the Packers are one of the best when it comes to fitting the right peg to the right hole. The synergy between the front office and coaching staff has enabled many under-the-radar prospects to find footing in the NFL.
Dan from Kenosha, WI
Wes, when seeing the development of a player like Rashan Gary, who was rated the number one recruit out of HS, was labeled an underachiever in college, and is becoming a dominant force as a pro…is that more attributable to scheme difference (LB vs. DE) or are the coaches at Michigan thinking, "Wow, we did not get the most out of that guy when he was here!" Do you think that is ever a thought coaches have?
I'm sure college coaches think about it, but you also need to remember how young Gary is. He played as a true freshman at Michigan and was just 21 when he got drafted. Gary is like that smart kid in your class moving up a grade over his football peers. I think he's grown into both his body and developed a firm understanding of his responsibilities here. The game is slowing down for Gary and his elite potential is transforming into elite production.
Related Questions and Answer about "Inbox: It serves a playmaking purpose"
Owned and operated by the Town of Leesburg,
the Leesburg Executive Airport (JYO)
is the second busiest General Aviation (GA) airport in the Commonwealth of Virginia. Located 35 miles from Washington DC, Leesburg Executive Airport is a designated reliever airport for Washington-Dulles International Airport.
Three airports are situated within a 45-mile drive of the Williamsburg area:
Newport News/Williamsburg International Airport (PHF)
– 17 miles from downtown Williamsburg. Norfolk International Airport (ORF) – 45 miles from downtown Williamsburg. Richmond International Airport (RIC) – 45 miles from downtown Williamsburg.
The
Jackson – Medgar Wiley Evers International Airport
(JAN) is open 24 hours a day, 7 days a week, 365 days a year.
A constitutionally recognized officer of the Senate who presides over the chamber in the absence of the vice president. The president pro tempore (or, "president for a time") is elected by the Senate and is, by custom, the senator of the majority party with the longest record of continuous service.
Democrats
Dianne Feinstein. California.
Ron Wyden. Oregon.
Martin Heinrich. New Mexico.
Angus King. Maine.
Michael Bennet. Colorado.
Bob Casey. Pennsylvania.
Kirsten Gillibrand. New York.
From 2013 to 2017, McDonough served as White House Chief of Staff to President Barack Obama, the only chief of staff to date to serve a full four-year term exactly.
2021-2022 legislative session
Connie Leyva Chair.
Dave Cortese.
Steve Glazer.
Mike McGuire.
Richard Pan.
Elected by the people of Texas in 2014,
Glenn Hegar
serves as the Texas Comptroller of Public Accounts.
ITSCs are likely
to make decisions regarding prioritizing business and IT projects, discussing how IT services apply to non-IT business needs
, and ensuring IT best practices, such as security and disaster recovery plans. A secondary goal of an ITSC may be to support projects as defined by the committee.
The Information Technology Act, 2000
provides legal recognition to the transaction done via electronic exchange of data and other electronic means of communication or electronic commerce transactions
.