The Columns » W&L's Tyler Bernard '23 Awarded Udall Scholarship » Washington and Lee University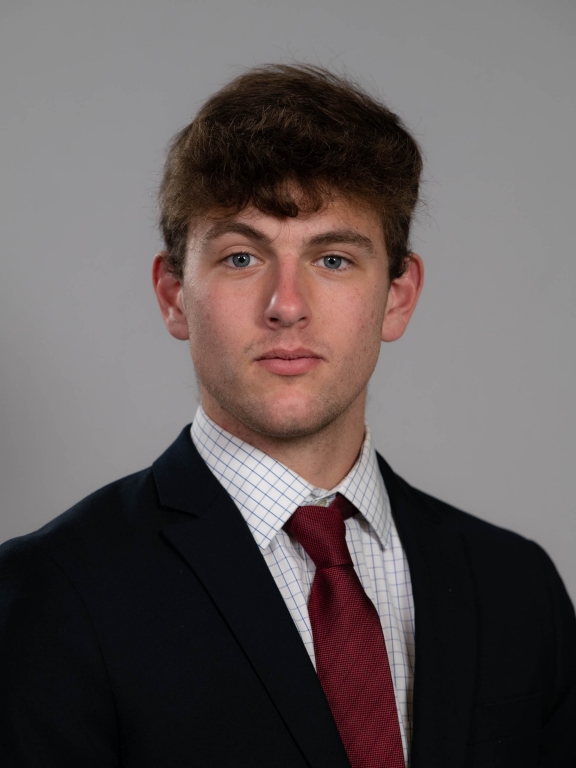 W&L's Tyler Bernard '23 Awarded Udall Scholarship Bernard has been selected as a 2022 Udall Scholar in the environmental category.
Tyler Bernard '23
Washington and Lee University junior Tyler Bernard '23 has been selected as a 2022 Udall Scholar in the environmental category. At W&L, Bernard is double majoring in philosophy and environmental studies with an emphasis in conservation biology. Bernard is a native of Short Hills, New Jersey, and he graduated from Millburn High School.
The Udall scholarship honors the legacies of Morris Udall and Stewart Udall, whose careers had a significant impact on Native American self-governance, health care, and the stewardship of public lands and natural resources.
This year's class of Udall Scholars was selected from 382 candidates nominated by 181 colleges and universities. Bernard was one of the 55 students chosen for this scholarship.
"It's a huge honor, and it feels great to have my effort recognized," said Bernard. "I hope this award lets me contribute in even a minor way to some of the challenges confronting us. I truly can't express how lucky I feel to have been selected."
The scholarship grants $7,000 for academic study. For Bernard, this award will help fund his graduate study.
"I plan to apply to graduate programs in ecology. I'm interested in participating in a program that lets me continue to think about environmental issues in an interdisciplinary fashion," Bernard said.
The Udall Foundation will also pay for the scholars' transportation and accommodation for the annual Udall Scholar Orientation in Tucson, Arizona, in August. During this orientation, Bernard and the scholars will have the opportunity to meet one another and connect with program alumni and community leaders in environmental, Tribal health care and governance fields.
On campus, Bernard is an active volunteer at the Campus Kitchen and serves on their leadership team. He recently attended a service-learning program in Costa Rica. He also works as editor-in-chief for the Mudd Journal of Ethics and plays on the W&L men's varsity soccer team.
"I met Tyler the winter semester of his freshman year," said Jeffery Kosky, professor of religion at W&L. "He is a rare student, concentrating his studies in philosophy and biology while also pursuing projects in creative writing and his journals. He understands the books as well as the world. He sees the world through the books and reads the books through the world. I am lucky to have the chance to work with him."
This summer, Bernard will work on his honors thesis with W&L religion professor Jeffrey Kosky. He will also participate in a Research Experiences for Undergraduates interdisciplinary program on wetland ecology with the National Science Foundation at the Rochester Institute of Technology.
If you know a W&L student who has done great, accolade-worthy things, tell us about them! Nominate them for an accolade.
Related Questions and Answer about "The Columns » W&L's Tyler Bernard '23 Awarded Udall Scholarship » Washington and Lee University"
In 2018 the district's board decided not to vote on a possible renaming, so the school kept its name.
On July 16, 2020 the school board voted unanimously to initiate changing the name of both Robert E. Lee High School and John Tyler High School
.
After much conversation, pushback and debate, the Board of Trustees at Washington and Lee University has voted not to change the institution's name.
The latter part of the name honors Robert E. Lee
, commander of the Confederate States Army and former president of the institution.
Washington and Lee
awards both merit scholarships and need-based aid
. All Wx26amp;L merit scholarships are awarded through The Johnson Scholarship application, so only one application is needed. Wx26amp;L also provides need-based grants to students whose families demonstrate financial need.
The Johnson Scholarshipnn Students are selected on the
basis of academic achievement
, demonstrated leadership and their potential to contribute to the intellectual and civic life of the Wx26amp;L campus and of the world at large in years to come.
(WDBJ) -
Washington and Lee University will not change its name
, choosing to continue under its current name. That decision was made via a 22-6 decision by its Board of Trustees. The board also decided to expand diversity and inclusion initiatives and make changes to campus buildings, practices, and governance.
Given Lee's history, the school has faced controversy in recent years over a perceived lack of sensitivity regarding racial issues, including a faculty vote in which 80% supported changing the university's name. (
80% of students at the school are white; only about 3% are Black
).
The Udall Scholarship is a highly competitive award and is
regarded by most universities as one of several prestigious scholarships
(alongside the Churchill Scholarship, the Fulbright Scholarship, the Gates Cambridge Scholarship, the Harry S.
6) Washington and Lee University (Lexington City, VA)nn Legacy is at the heart of the Washington and Lee experience;
it is actually the 9th oldest institution of higher education in the US
. The total number of students at this school is between 2200 – 2300, making it one of the smallest "Southern Ivies" on this list.
Washington and Lee Eagle Band
.
1968
. Walter Blake and Carl Linwood Smothers enter Wx26amp;L as freshmen and eventually become the first African Americans to receive bachelor's degrees from the University.