University announces 2022 winners of Quantrell and Graduate Teaching Awards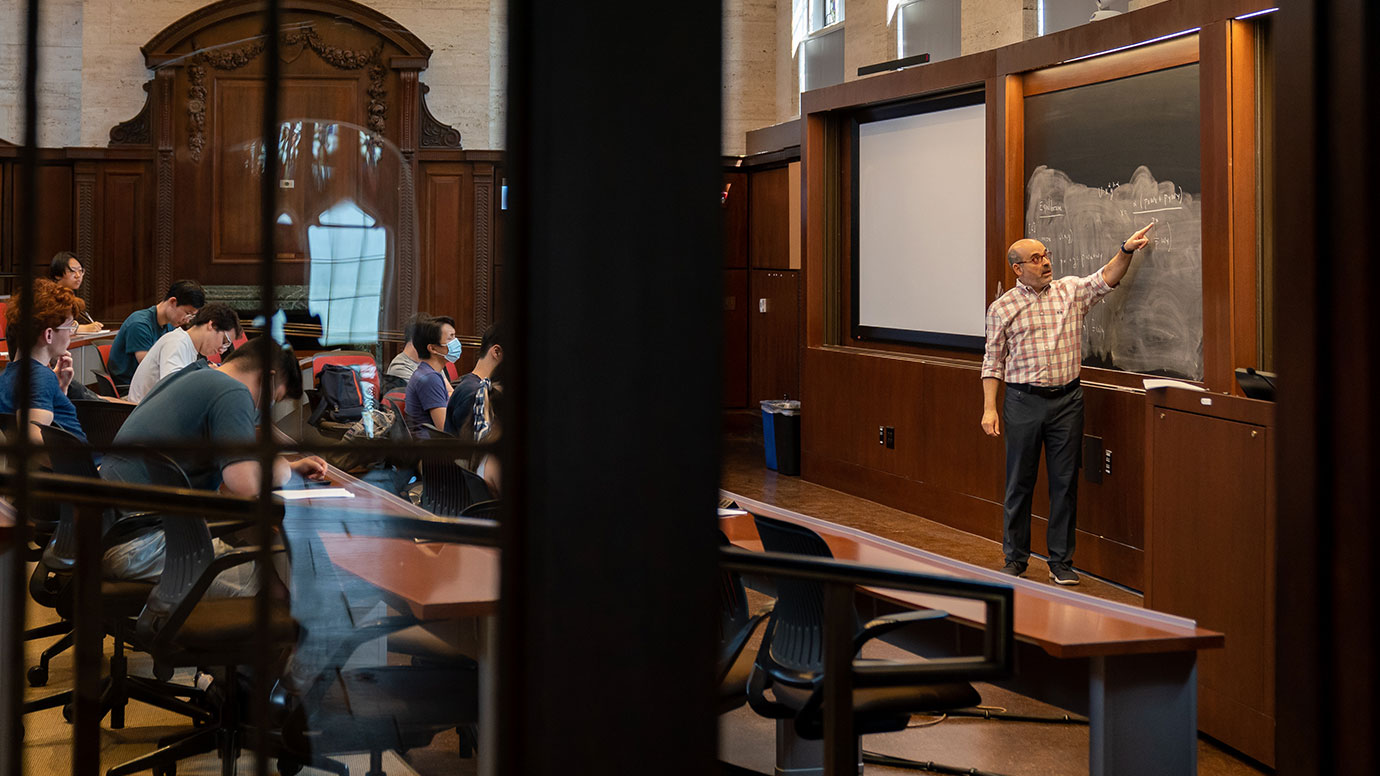 Now, as a particle physicist who specializes in building instruments to study particles called neutrinos, he volunteers every year to teach the types of introductory classes that changed his own life. 
Not every student in his classes will throw aside their plans in order to study neutrinos for a living. But Schmitz hopes that no matter their career, each comes away "impacted by a year of studying physics in a detailed way and recognizing how cool it is, its connection to things all around them, and its impact in the world."
To foster these realizations, Schmitz makes an effort to show students just how much fundamental physics is all around them—from seeing how Maxwell's equations of electromagnetism explain the workings of an electric motor to looking at the color patterns that are created when oil floats on water in the streets after a rain to understand how light waves interfere.
"Demonstrations and examples are always great," he said, "and when I can, I try to do it with elements from research or even with things the students might have at home or around them, in addition to specialized demonstration equipment. In a waves course, I like to bring my guitar to class as an illustration of standing waves. In electricity and magnetism, I'll use examples from my own research in particle physics where fundamental E&M is everywhere."  
In doing so, Schmitz seeks to emphasize that the physics problems he asks students to complete are not completely abstract: "They're not just textbook subjects for the sake of challenging your math skills, though they definitely do that too."
"I'm always looking for ways to highlight connections—both the connections between different concepts within physics, as well as between physics and the world around us," he said. "There is a real thrill in realizing these connections that has never faded for me, and I love sharing it with students every year."
Faculty Awards for Excellence in Graduate Teaching and Mentoring
Matthias Haase, Assistant Professor of Philosophy
As a university student in Germany years ago, Matthias Haase learned a valuable lesson he's carried with him since. "We were reading Kant and the professor said, 'If you are puzzled, hold onto your puzzlement; if it all seems intelligible to you, that's a terrible sign,'" Haase recalled.
Now an assistant professor of philosophy whose research interests span ethics, moral psychology, philosophy of action, and German idealism, Haase still stands firmly by that advice. "The only way to get to understanding is to get puzzled and more and more puzzled," he said. "Only then are you onto some bigger question."
Related Questions and Answer about "University announces 2022 winners of Quantrell and Graduate Teaching Awards"
Who selects the winners? Winners are determined by
a blended vote between the voting jury
(90%) and public fan voting (10%). Fans can vote for their favorite games on TheGameAwards.com and also via social media platforms in select categories.
The BBMAs have celebrated music's greatest achievements for more than 30 years. Unique among music awards shows,
finalists are determined by performance on the Billboard charts
. Since 1940, the Billboard charts have been the most authoritative guide for ranking the popularity of artists, songs and albums.
A graduate teaching assistant is a graduate student enrolled in a university who also
teaches undergraduate students at that university
. As students, graduate teaching assistants take courses and pursue their studies in a specialized academic field. They also help professors teach undergraduate courses.Aug 10, 2020
Miranda Lambert
won her first Entertainer of the Year trophy at the 2022 ACM Awards. Other notable winners included Morgan Wallen, whose Dangerous: The Double Album won Album of the Year, and Lainey Wilson, who won New Female Artist of the Year and Song of the Year for her hit "Things a Man Oughta Know."
For the first time, the ACM Awards are not on network TV. Instead, they are streaming exclusively on
Amazon Prime
. According to Forbes, this is the first time a major awards show will livestream exclusively.6 days ago
The 2022 Academy Awards air Sunday, March 27 on ABC.
Stream the show and watch the Oscars online with fuboTV
.
The Oscars can be watched
via any streaming TV service that offers local broadcast channels, including YouTube TV, Hulu + Live TV, and FuboTV
. You can also watch the live broadcast on the ABC website, as long as you sign in with credentials from a pay-TV subscription for a streaming service or cable package.
Grammys 2022 Full List of Winners, 64th Grammy Awards 2022 Winners List:
Olivia Rodrigo, Jon Batiste and Doja Cat
took home the awards for the night.
The Stanford Graduate School of Business (also known as Stanford GSB or the GSB) is the graduate business school of Stanford University
. Located in Stanford, California, for several years it has been the most selective business school in the world, admitting only about 6% of applicants.
TNT
When are the 2022 SAG Awards and how can I watch on TV? The show starts at 8 p.m. EST/ 5 p.m. PST on Sunday, Feb. 27. and will telecast simultaneously on
TNT and TBS
.