NASA chief Bill Nelson urges action after 'heavy weight' of recent mass shootings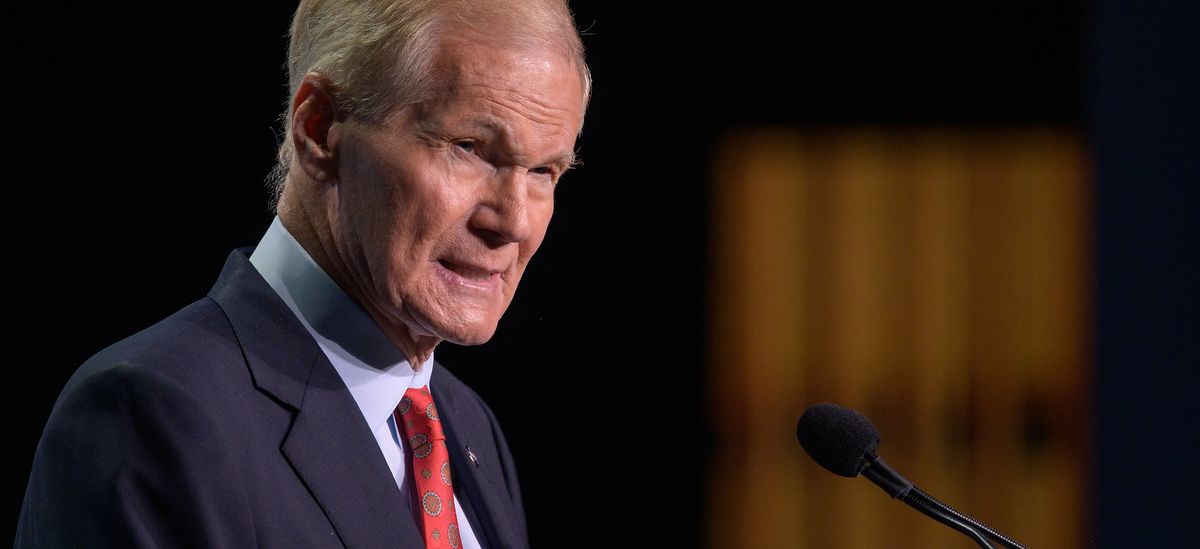 NASA Administrator Bill Nelson added his voice Wednesday (May 25) to the chorus urging action to prevent mass shootings.
In a Twitter thread (opens in new tab), the former U.S. Senator (D-Fla.) and one-time space shuttle astronaut said he has been feeling a "heavy weight" following the news that at least 19 children and two adults died in a shooting at an elementary school in Uvalde, Texas, on Tuesday (May 24).
Referring to recent similar mass deaths by gun violence, Nelson said Americans have been murdered "while shopping at a Buffalo supermarket, while attending a Taiwanese Presbyterian church in Laguna Woods [California], and yesterday at an elementary school in Uvalde."
Last week, following the racially motivated Buffalo murders, which targeted Black Americans, U.S. President Joe Biden told mourners that "white supremacy will not have the last word," according to MSNBC (opens in new tab). 
Related: 'We stand with you,' NASA's Perseverance rover team tells people of Boulder after mass shooting
It's impossible not to feel the heavy weight of recent events across our nation – with Americans murdered while shopping at a Buffalo supermarket, while attending a Taiwanese Presbyterian church in Laguna Woods, and yesterday at an elementary school in Uvalde.May 25, 2022
See more
"In each event, lives were tragically taken in the course of everyday living ... we have seen far too much tragedy," Nelson wrote in his thread about the shootings.
Nelson noted that Tuesday also marked the two-year anniversary of George Floyd's death. Floyd, a 46-year-old Black man, was killed in police custody on May 25, 2020 after a white police officer kneeled on his neck for more than nine minutes, The Guardian wrote (opens in new tab) in 2021 after the officer was convicted of murder.
"We must act — for accountability, for justice. For change, for progress. For our children and our fellow Americans. It's past time to say enough of the senseless killings," Nelson wrote.
While Nelson cited no statistics in his discussion, Pew Research has found that nearly 80 percent (opens in new tab) of U.S. murders are committed using a firearm.
Nelson is not the only person in the space community pushing for action against gun violence in the wake of the Uvalde massacre.
For example, SpaceX founder and CEO Elon Musk just endorsed tighter background checks on guy buyers. And former astronaut and current U.S. Senator Mark Kelly (D-Ariz.) issued a tweet thread Tuesday that stressed that the Uvalde shooting "demands a response." Kelly's wife, former Congresswoman Gabrielle Giffords (D-Ariz.), retired from politics after being shot in the head in 2011 while meeting with constituents.
Numerous media sources have pointed to the divide between Democrats and Republicans when it comes to implementing gun control in Congress. Sen. Ted Cruz (R-Tex.), for example, is still expected to attend (opens in new tab) the National Rifle Association's annual meeting on Friday (May 27) to speak, following through on a booking made long before the Texas school shooting.
In an interview that aired on NBC (opens in new tab) late Tuesday, however, Cruz called the shooting "yet another unspeakable crime."
Follow Elizabeth Howell on Twitter @howellspace (opens in new tab). Follow us on Twitter @Spacedotcom (opens in new tab) and on Facebook (opens in new tab). 
Related Questions and Answer about "NASA chief Bill Nelson urges action after 'heavy weight' of recent mass shootings"
The goal with a quality mass gainer, like Serious Mass, is to consume the recommended servings,
day in and day out, in addition to regular meals
. Some also choose to drink the shakes down between main meal times, as well as after exercise, which take your daily calorie and protein intake even higher.
Mass gainer in form of oral supplements supports muscle gain in particular. Generally, they are high in protein, moderate in carbohydrate and low in fat.n...nWeight Gainer vs. Mass Gainer.
Differentiation criteriaWeight GainerMass GainerCaloriesWeight gainer gives you more caloriesMass gainer helps in gaining lean muscle mass
The southernmost part of the island is Fearney Point, named after Nelson's bargeman William Fearney who took charge of the swords of surrendered Spaniards during the Battle of Cape St Vincent.n...nNelson Island (British Columbia)
GeographyCoordinates492′00″N 1248′00″WArchipelagoNorthern Gulf IslandsArea102.8 km2 (39.7 sq mi)Administration
Optimum Nutrition Serious Mass is
designed to help build muscle and put on weight
. It's a high-protein weight-gain formula which provides 1,250 calories per serving (about 2 heaping scoops). This amount of calories are designed to help support your weight gain goals.Mar 11, 2021
Does Serious Mass help gain weight? Due to its high-calorie content, this supplement may cause excess weight gain. According to Harvard Medical School, one pound of fat equals 3,500 calories. If you take Serious Mass,
the pounds will add up unless you burn those extra calories through exercise
.
Your CoS background provides the broader scope necessary for a more general management track that leads its way to a COO position, and potentially beyond. In my current role, I have seen people take
Vice President (VP) or Chief Operating Officer (COO)
titles, depending on level of experience.
Chowdhury Abdullah Al-Mamun
is a Bangladeshi police officer and the incumbent Director General of Rapid Action Battalion (RAB). He was made the DG of RAB in April 2020.
Estrogen and progesterone increase the size and number of ducts and glands in the breast
. They also cause your breasts to retain water, making them heavy and tender. These types of cyclical breast changes usually affect both breasts.
The weight gain is real
nn Some women will put on weight due to fluid retention during the superovulation phase of the IVF cycle. So in this case, it is the high estrogen levels that are causing the fluid retention. But the feelings of bloating are only temporary.
Named after
Admiral Horatio Nelson
, the hotel was built by a consortium of investors led by the Canadian Pacific Railway and opened for business on October 23, 1928.